Credit Application
Thank you for taking the time to complete a credit application with Midlantic Supply, LLC. Please complete this credit application in its entirety, without omissions, in a timely manner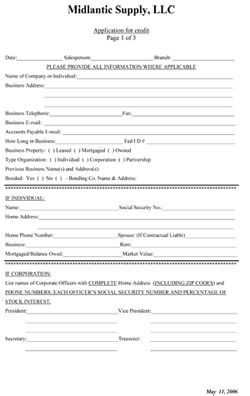 All information is vital and necessary for us to process your application. Please includes zip codes, titles, social security numbers, addresses, phone & fax numbers, signatures, and account numbers.
Incomplete applications could result in a time delay in establishing credit.
Thank you for your prompt attention in this matter. If your application is faxed, please send the original via mail. Thank you.
Fax:
856-778-4933
Mail:
Midlantic Supply, LLC
P.O. Box 506
Mount Laurel, NJ 08054